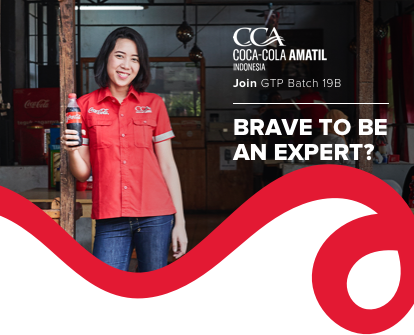 Requirement
Job Openings
Process
Benefit
About CCAI
Are you who we are looking for?
Requirements to register at Graduate Trainee Program
Young & Taleted

Maximum one year working experience

Good Communicator

Able to speak and write fluently in English

Love Traveling

You are willing to work in any city in Indonesia

Bachelor or Master

You own a Bachelor or Master Degree with a min. GPA of 3.0

Leadership Skill

Have organizational experience and able to lead a team

Highly Passionate

Interested in one of this function : Sales, Supply Chain, Market Strategy and Finance.
The processes that You will go through
Recruitment Process for Graduate Trainee Program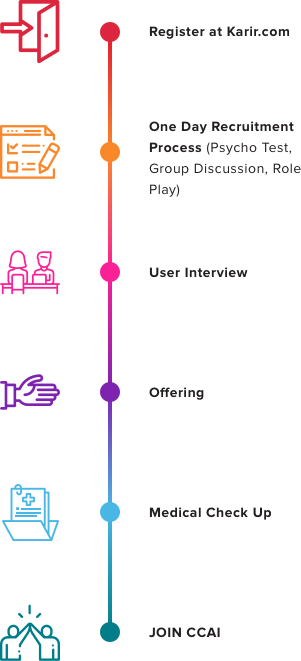 Siska Agnes Nainggolan

Sales Manager

GTP Batch 16

It was an honor for me to be part of (Coca-Cola Amatil Indonesia) CCAI team in Indonesia .Joining this company for 2,5 years, a very short time that bring me so much thing to be thankful for. I didn't expect that my journey could be this awesome. Starting as GTP 16C at Sept 2016, I was enjoying the phase of  learning at Semarang, Bali and also Jakarta, to involved as a part of Sales Representative and also District Sales Manager. With all of the learning and experience I had, finally, in 2018, I got promoted to a bigger role as a Sales Manager handling Bali area. I'm excited to learn more in this position, so cheers to all happiness and opportunities ahead in CCAI.

Aprilyta Gadis Nabilla

Assistant Sales Manager

GTP Batch 16

2016 i officially joined CCAI family, as one of GTP 16 Sales Department. I never imagine that i could join this famous company. I mean, who doesn't know Coca-Cola brand? I was proud, amazed and grateful for the time that worth to wait. Being a sales person is always fun, where i can meet a lot of persons, have a conversation and learn with every people not only in office, but also in market. Beside, being a sales person also told me how to be a tough lady. This company is a right place to learn, to deliver every talent and every postive energy. Now i am dreaming to be a future leader and being role model by bringing positive vibes in my every existence. I still need to learn a lot, but I am grateful with every step i take and every person that i meet in this company, and i am always ready to growth! One team, one dream, IT'S TIME!

Chairul Huda

Sales Manager General Trade

GTP Batch 16

I decided to apply a job in Amatil Indonesia under Sales General Trade Department, as a Graduate Trainee Program in 2016. Amatil Indonesia has been a great place to start my career and gave the opportunity to develop myself. I started my job in Sales as Assitant Sales Manager. After around 2 years, I got another opportunity to join assessment and Hypercare Program and promoted to Sales Manager in Mar 2019. I love the way Amatil Indonesia gives the opportunity to everyone looking for challenges in their career. I hope I can have the opportunity to develop my skills in other functions to know more about the Amatil Indonesia's business not only from one scope but also in the multiple dimensions.

Novina Eka Suryaningrum

Manufacturing Manager

GTP Batch 12

Are you wondering why my picture is upside-down? I have been doing that since I joined CCAI as GTP batch 12 in 2013, everyone deliberately replied my email just to ask why my profile picture is upside-down, and I always give them an answer, my picture is representing the way I think. I see something from different point of view, it helps me to not only understand my side but also their side, and able to give an effective solution to the business. CCAI GTP program is the way to be involved in the business faster, you have chance to present your idea in front of the leadership team, implement it, and see the result.

Angga Suksma Wicaksono

Business System Manager

GTP Batch 9

It was an honor to be part of GTP-IT Batch 9. I've gained a lot of knowledge and skills during the completion of my GTP program. At CCAI, we never stop learning, and that motivates me as the agent of change for better improvement in CCAI to learn and work harder. I started my career as an IT business solutions analyst and in less than 5 years I become the Regional IT Manager for West Island Region. I would recommend future GTP program participants to have the strength and willingness to work hard and reach your potential.