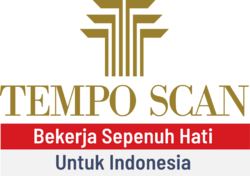 Ikuti perusahaan ini!
Tingkatkan kesempatan anda untuk berkarir di perusahaan ini!
Senin - Jumat
08:00 - 17:00
Tentang The Tempo Group
PT Tempo Scan Pacific Tbk (the "Company") and its subsidiaries are part of the Tempo Group, a group of companies which commenced its business activities through the establishment of PT PD Tempo on 3 November 1953 in the trading business of pharmaceutical products. The Company was established through the restructuring process in 1991 and originally named PT Scanchemie which in 1970 started its large scale commercial production of pharmaceutical products. With time, the Company through its subsidiaries has also manufactured cosmetics and consumer products since 1977.
In 1994 the Company became public company and listed 75,000,000 shares on the Indonesia Stock Exchange/IDX (previously known as Jakarta Stock Exchange/JSX).
In 1995 the number of shares increased to 150,000,000 shares with a change of nominal value of each share from Rp 1,000 to Rp 500 per share (stock split).
Subsequently in 1998, IDX approved the listing of 300,000,000 shares of the Company which came from the First Limited Public Offering, bringing the number of listed shares of the Company to a total of 450,000,000 shares.
In 1999, despite the impact of Asian economic crisis, the Company prepaid its USD 105 million foreign syndicated loan and since then it went into surplus net cash position.
In 2003 the Company implemented SAP to support the Company's operational activities more efficiently and effectively. Currently the SAP has been implemented in 16 subsidiaries of the Company.
With a confidence that Indonesia's economy will continue to improve, the Company built a new Pharmaceutical factory in Cikarang with a total area of 76,105 sqm which was inaugurated in 2006.
In 2006 the number of listed shares increased to 4,500,000,000 shares with a change of nominal value of each share from Rp 500 to Rp 50 per share (stock split).
In 2007 the Company expanded its international business to Thailand and established Tempo Scan Pacific Philippines in 2010 and Tempo Scan Pacific Malaysia in 2012.
As the Company continued to grow, the Tempo Scan head office moved to Tempo Scan Tower at Jl. HR Rasuna Said Kav. 3-4, Kuningan, South Jakarta, Indonesia, consisting of 30 floors and 4 basements with a total area of 70,000 sqm, and inaugurated in March 2012.
In 2017 the Company started to build a new CPCMG's factory located in Mojokerto, East Java province, and has commenced its commercial production since February 2019. Currently the Company's manufacturing facilities are located in 9 locati
Lowongan
Maaf, tidak ada lowongan yang tersedia saat ini.
Belum Ada Lowongan yang Tersedia Untuk Perusahaan ini.
Deposit CV anda agar bisa dihubungi HR secara langsung.